Zen Course in Golf Short Line System

Zen in Golf Mental Training
Watch the video and you will see the benefits you can get especially improving your game in your golf.
Ten 10 Lesson for one or two persons
Are You….
1– Frustrated losing distance with your Driver, Irons, or Woods?
2- Frustrated losing accuracy around the green with your chipping and approach shots?
3– Frustrated because your number of putts on the green is too high?
Let's end the frustration! Contact Me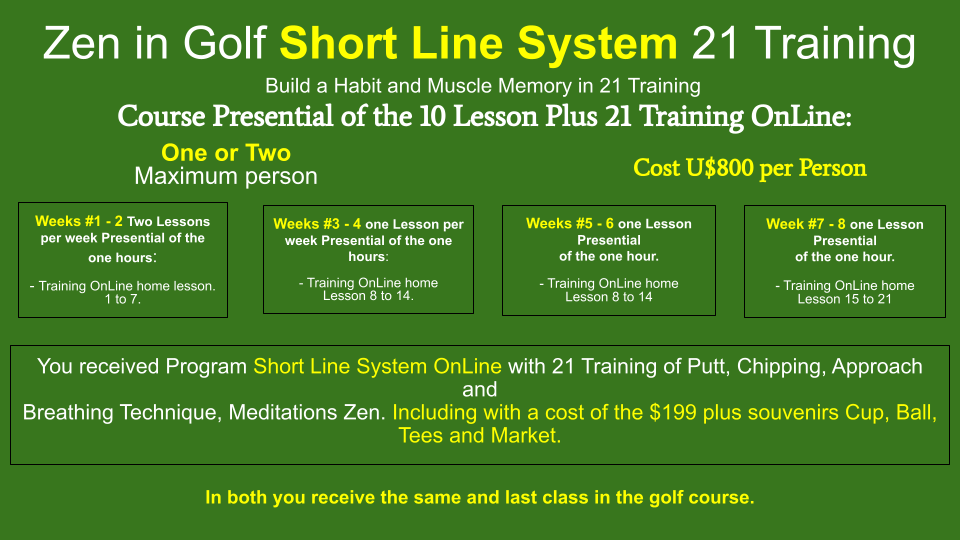 DISCOVER HOW YOU CAN INCREASE THE DISTANCE FROM THE TEE, REDUCE YOUR HANDICAP QUICKLY AND EASILY BY DIRECTING YOUR TRAINING WITH OUR SHORT LINE SYSTEM PROGRAM SPENDING HOURS OF SPECIFIC TRAINING ON WHAT YOU NEED TO IMPROVE ON THE PRACTICE FIELDS.
PHYSICAL BENEFITS WITH ZEN IN GOLF MENTAL TRAINING
Discover how you can hit with more precision; 
A perfect direction to the flag, 

Know your distance, 

increase it in each of the clubs,

Improve the technique,

Mobility of the body,
How to use the body to generate more power and swing speed and know exactly the speed to use in the back and down swing.
Control over you Body:
Good and clear Rutine
Control over your body
Control over your speed and moment to impact the ball
Control over your entorno en competition
Control over distance all your golf club 
Control over your AIM and precition
Total control over your game
Obtain more mental and physical control:
by improving breathing and that this can increase the power of the body
With Zen meditation, we will be able to fasten our concentration and mental attitude by doing so, we will have control of the environment and we will multiply the security of what we know with the confidence to apply it in our game and in competition.